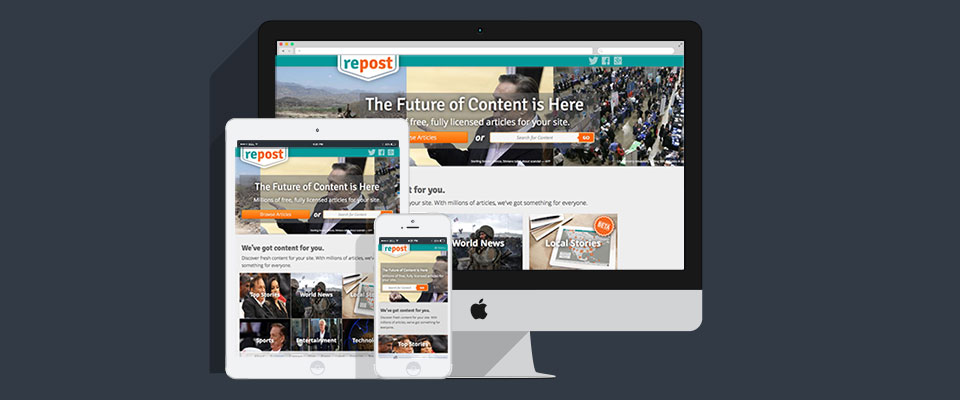 Repost.Us makes content portable and accessible.
Repost.Us is a content distribution and discovery platform that makes it easy to republish content anywhere on the web. It transforms content into smart objects that automatically reformat to match any site, platform, or device; content works just like embedding a video.
Founded in 2011, Repost.Us is the first open instant syndication platform that any publisher — from individual bloggers to media giants — can use.
The front end site is a scratch-built responsive designed WordPress theme that serves 7,000,000 plus articles from over 7,000 publishers. Ongoing, extensive usability testing consisting of in-person interviews and A/B testing continues to refine the look and flow of the site.
As always, images, logos, other graphic elements, and layout are sketched before committing to digital design. This may be considered old school by some, but has allowed the production of richer initial designs without being trapped in the constraints of an Adobe application.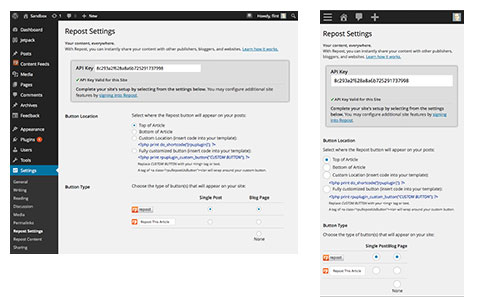 A WordPress plugin provides a customer to allow their content to be syndicated. Setting up a new account with the service can be directly done through the plugin. Additionally, the plugin offers external similar articles to embed on their site based on the user's current posts. Customers may create and save filters based on their searches to quickly find articles to embed on their site. The plugin is designed to responsively fit all devices and is platform agnostic.
Involved Role (client: Free Range Content, Inc.)
Frontend development
Layout and design
WordPress theme construction
WordPress plugin construction
Logo and graphics creation
UI generation
Repost.Us Website and Collateral Medium Specifics
Custom responsive WordPress theme (HTML, CSS, PHP, Javascript)
Custom WordPress plugin (HTML, CSS, PHP, Javascript)
Repost.Us logo and graphics (Adobe Illustrator, Adobe Photoshop)