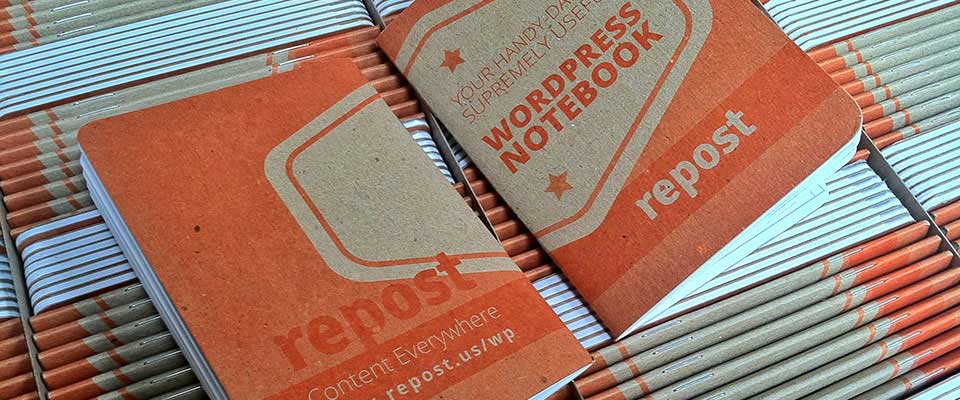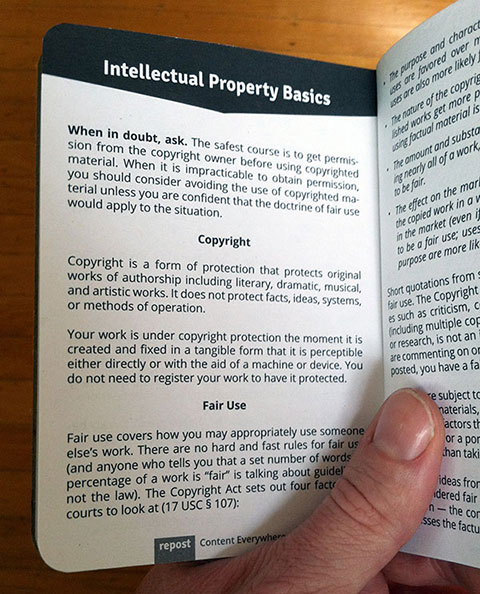 Designed for a small startup (repost.us) with big ideas and who wanted to produce a piece of schwag that was not only a soft sell of their services, but also highly informative. The piece was produced with a WordPress conference in mind (WordCamp), which was handed out to attendees. It was important to not only include educational resources on plagiarism and intellectual property, but also blog checklists and wireframe templates for personal use. A marriage of website reference guides and a personal sketchbook.
The intention was that these pocket-sized resources would be used for the longterm rather than quickly tossed into a junk drawer. A simple notebook is marginally okay and useful, but having custom interior pages makes this a far superior tool when coupled with the right audience. They were a hit at the conference and disappeared as quickly as were handed out.
Page Content Includes
Blog maintenance checklist
Intellectual property basics
10 tips on avoiding plagiarism
WordPress theme development checklist
Dot-grid sketch pages
Blank website wireframe pages
Involved Role
Project development
Layout production (Adobe Illustrator & InDesign)
Interior content writing
Repost.Us WordPress Notebooks Medium Specifics
One-color cover printed on recycled chipboard, 32-page notebook interior, vegetable-based inks, and saddle stitched.