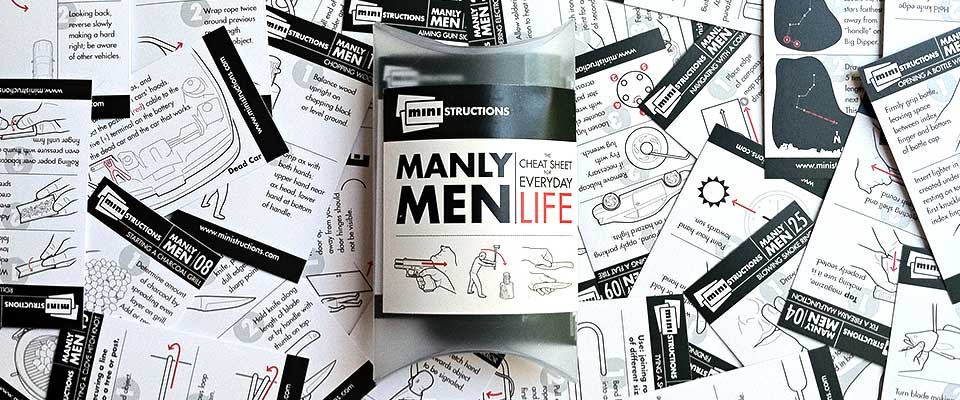 Ministructions are a series of illustrated instructional guides in a compact, business card size. These handy references are the perfect helper when a book is more than necessary or a website may be inconvenient. Every card is designed showing the basics on how to complete each task.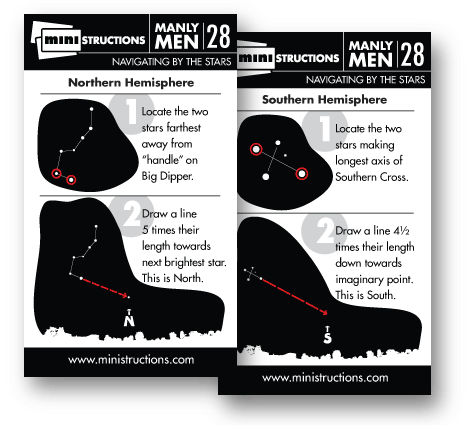 Each Ministructions deck includes about thirty cards built around several focused themes such as:
Manly Men – with topics such as Lassoing, Sharpening a Knife, Chopping Wood

Domestic Bliss – covers household tasks like Seasoning an Iron Skillet, Ironing a Shirt, Table Settings, and Folding a Fitted Sheet

Everyday Play – which includes Throwing a Boomerang, Juggling, Hula Hooping, and several family games
What makes Ministructions convenient is that they do not have to be used as a deck and can be kept in convenient locations, such as your…
Car – changing a flat tire, jump starting a car, accident information

Wardrobe – tying a necktie and bow tie

Kitchen – place settings, filleting a fish, knife sharpening\r\nWallet/purse – card and dice games, how to use chopsticks

Camping gear – knot tying, starting a campfire, using a compass

Toolbox – fixing a leaking pipe, hang a picture frame, unclogging a toilet
Sometimes life just needs a handy cheat sheet.
Ministructions Card Decks Medium Specifics
Doubled-sided 2″x3.5″ cardstock
Custom plastic card deck containers